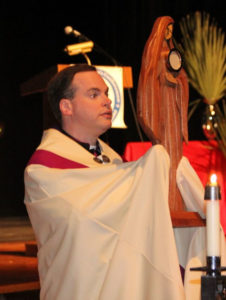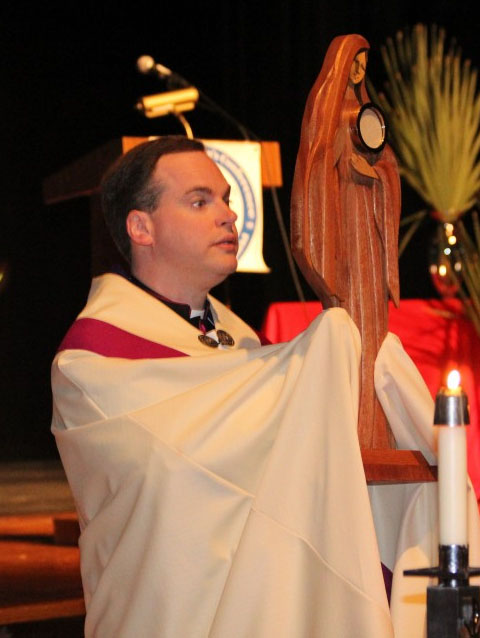 Assignments
Rector of St. Michael's Cathedral; administrator of Holy Family Parish, Springfield and St. Francis Chapel, Springfield; vicar general and moderator of the curia
Place of Birth and Home Parish:
Springfield; Sacred Heart Parish, Springfield
High School:
Cathedral High School
College/University/Seminary
Providence College; St. John's Seminary, Brighton, Mass.; The Catholic University of America, Washington, D.C.
Date of Ordination
June 5, 1993 at St. Michael's Cathedral by Bishop John A. Marshall
What assignments have you had since ordination?
My previous assignments include parochial vicar, Holy Name Parish, Springfield (1993 – 1998); parochial vicar/administrator, St. Thomas the Apostle Parish, West Springfield (1998 – 2000); secretary to the bishop and master of ceremonies (2000 – 2008); vice chancellor.
What have been some of the greatest joys for you as a priest?
Officiating at the wedding of my brother and sister-in-law; serving as chaplain for Cathedral High School Golden Panthers and Legatus; friendships made at the parishes where I have served; serving with the bishop and having the opportunity to visit all parishes throughout the diocese.
Who influenced you most to consider the vocation to priesthood?
Exemplary priests from this diocese and Dominican priests at Providence College. I was also inspired by the commitment of women religious who were my teachers, now my colleagues.
What was your background before you entered seminary?
I became a seminarian immediately following college and so I was a student prior to seminary. I worked in the summer for the Springfield Water Department and as an aide for two summers in then-Mayor Neal's office.
What would people be surprised to know about you?
I was a political science major. I happily eat any flavor ice cream!
What are some of your hobbies?
The hobby I like the most is automobiles. I enjoy going to car shows and staying current on the latest models. I also like music. I am an organist; that's a hobby. I'm a canon lawyer, but that's not a hobby.
What are some of your favorite books/spiritual reading/magazines?
In light of this interview, I better say my favorite is The Catholic Observer. In addition, I read Origins and other Catholic periodicals. My favorite contemporary American theologian is the late Cardinal Avery Dulles.
Who is a hero to you?
I have met many. To me, a hero may best be described as one who lives well our Catholic faith and, as the prophet Micah urges, is content to act justly, to love with tenderness, and to walk humbly with God.
What advice would you give a young man who is contemplating a vocation to the priesthood?
Pray always and never lose heart; find strength in the sacraments, especially the Eucharist.