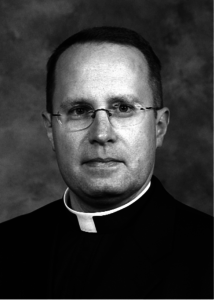 Parish/Assignment
St. Frances Cabrini, West Springfield
Place of Birth and Home Parish
Pittsfield; St. Agnes, Dalton
High School
Wahconah Regional High School, Dalton
College/University/Seminary
Community College of the Air Force, Montgomery, Ala.; St. John's Seminary College, Boston; St. Mary's Seminary and University, Baltimore
Date of Ordination
June 4, 2005
What assignments have you had since ordination?
Our Lady of the Blessed Sacrament, Westfield (2005-2008); Our Lady of the Rosary, Russell, St. Thomas, Huntington, St. John, Chester (2007-2008); St. Michael's Catholic Community, Bolling AFB, D.C. (2005-2007); Our Lady of Fatima, Anchorage, Alaska (2008)
What have been some of the greatest joys for you as a priest?
Being able to serve a wide variety of people of different walks of life throughout the diocese and U.S.; co-founding a relief organization in Africa and knowing the positive impact priestly ministry makes on the world, a world which isn't so large after all.
Who influenced you most to consider the vocation to priesthood?
Supportive parents and teachers who encouraged me to be happy with whatever direction I decided to go.
What was your background before you entered seminary?
I was formerly a signals intelligence analyst in the U.S. Air Force for 10 years.
What are some of your hobbies?
Photography, travel.
What are some of your favorite books/spiritual reading/magazines?
Periodicals dealing with Africa/international issues, such as Christian Science Monitor; books that deal with Muslim-Christian issues; the local town weekly paper; mystery novels by foreign authors.
Who is a hero to you?
St. Paul. Years ago, I rode through Tarsus (southern Turkey) on a bus and never thought much of it, but now I really appreciate the extent to which he went to tell the known world about Jesus. His life and letters show that, while it's not always easy, going to all corners of our known world to bring the Gospel has an amazing transforming effect, not only on the world but also on ourselves.
What are some ways that we can help all people/ families understand their role in promoting and supporting vocations?
Don't sit back and let someone else do it – we're it. Families should cultivate an understanding and love for the Eucharist, and should also read Scripture regularly to their children. Instill a sense of wonder and imagination in what is transpiring in Scripture.
What advice would you give a young man who is contemplating a vocation to the priesthood?
Be patient, pray, and listen for the promptings of God. Understand that God does not always respond in the ways we expect. The answer may come simply by sensing a door opening, held open by understanding people.