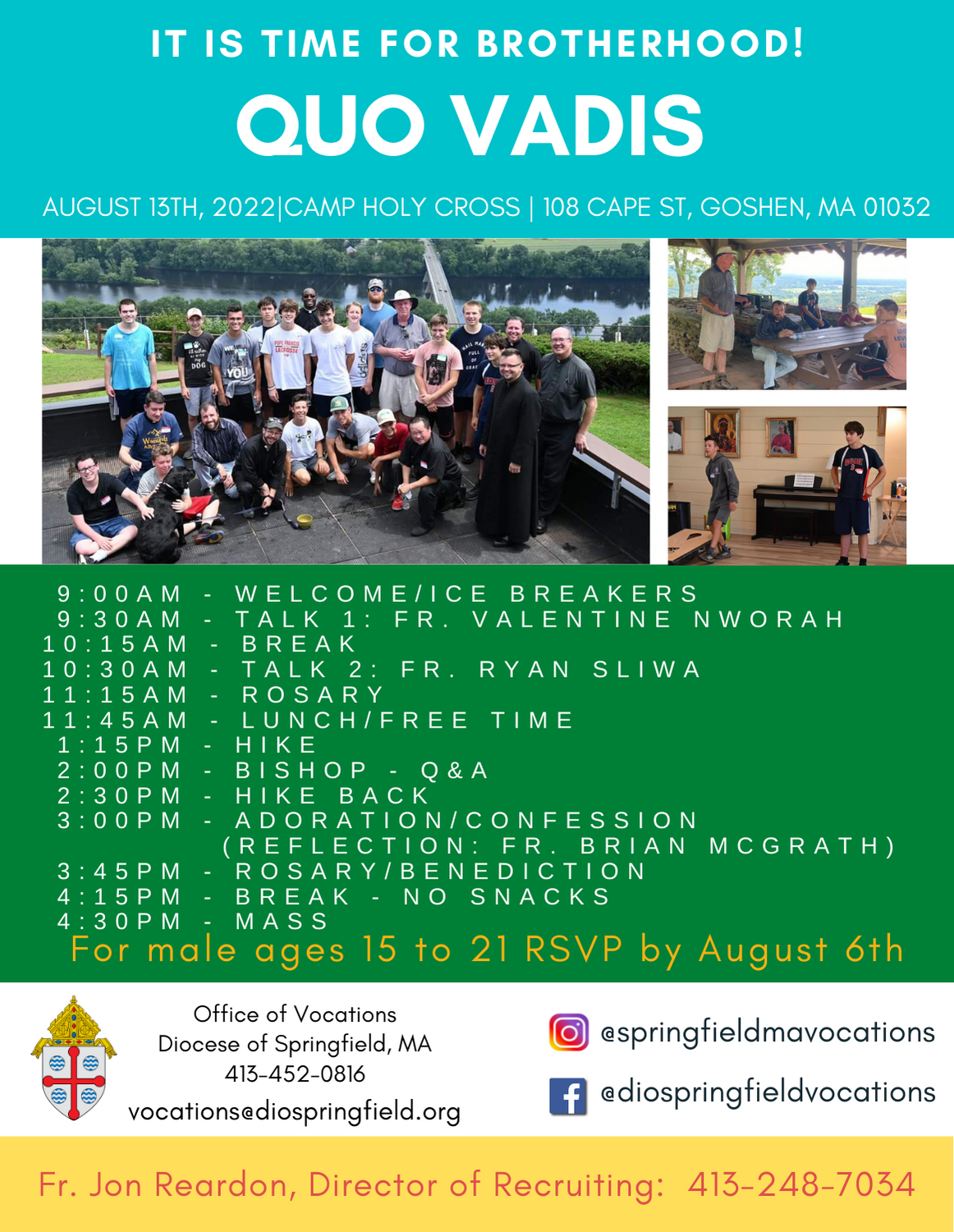 Quo Vadis Retreat Day
Aug. 13, 2022, 9 AM-5 PM
Camp Holy Cross
Goshen, MA
Quo Vadis in Latin means "Where are you going?" According to Church tradition, the saying finds its origins in St. Peter. Upon fleeing Rome for fear of crucifixion, St. Peter finds Christ along side the road. Peter asks, "Quo vadis?" Jesus responds, "I am going to Rome to be crucified again". From this response, Peter gains the courage to return to Rome and to his martyrdom.
Quo Vadis is a retreat day for Catholic high school boys (from those entering ninth grade to those having just completed their senior grade year) to deepen their faith, learn more about vocations, and better discern God's call in their lives. It is a time of recreation, fellowship, and prayer. Bishop William Byrne and priests from around the Diocese of Springfield will be leading the day with prayer, hiking, adoration, inspiring talks, games/sports, rosary, conversations and more. Kindly bring your own lunch, light snacks and drinks provided throughout the day. A Vigil Mass will be celebrated to conclude the retreat. Come deepen your relationship with Christ and with others.
Download Permission Form
Please download this permission form and bring it with you completed on the day of the retreat.
For more information or questions, please contact Fr. Jon Reardon at the Vocations Office at Vocations@diospringfield.org or 413-452-0503. We look forward to meeting you!
Please complete and submit the form below in order to register for the retreat: