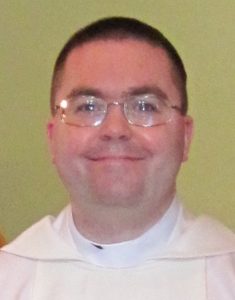 Ordination
June 1, 2013
Seminary
St. John's Seminary, Brighton, 2013
Assignment
Christ the King Parish, Ludlow
My road to the priesthood had its own special twists and turns. I am a convert to the Catholic Faith, having been brought up in the United Church of Christ, one of the cultural remnants of New England Puritanism. My father's family is mainly Irish and Catholic, but my father chose a different path when he met my Presbyterian mother. I am, in a sense, the Counter-Reformation in my family. Having a deep love of history, and not being shy of reading the Bible, I discovered the singular truth and perfection of the Catholic Church, and embraced Her wholeheartedly.
In terms of vocational discernment, I felt drawn to serve the Church, but was uncertain for a time of whether to pursue the monastic life or the diocesan priesthood. Being a convert, I originally thought to undertake a longer discernment process, while becoming a professor of medieval history in the short-run. God had other plans in mind. The life of secular academia, as I experienced it in graduate school, appeared too cold, competitive, and skeptical for me. Deciding not to apply for doctoral programs at that point, I threw myself more deeply into the question of a vocation. In connection with the vocational group at the Newman Center at UMass Amherst, I discerned to apply for seminary through this diocese (I grew up in eastern Massachusetts). It was a joyful decision, in spite of the challenges that I would face along the way.
Priestly life is beautiful, but has profound responsibilities. Following ordination, the daily event that has been most striking for me is the consecration of the Holy Eucharist during the Mass. It is in those moments that the reality of priesthood hits me most strongly, and that the Evil One attacks me most. Christian life is a spiritual battle, and the priesthood intensifies it. But it is a humbling and wonderful thing to be a priest. My greatest joys in priesthood lie in the celebration of the Holy Mass and the other Sacraments, the life of prayer, and the work of preaching and teaching.
A principle that I encourage is to put God first, before all else, including family and even yourself. This is trying at times, and requires regular introspection and growth in self-discipline, but it keeps one on track with the Lord. Above all else, pray, and fight the temptations to skepticism and cynicism.