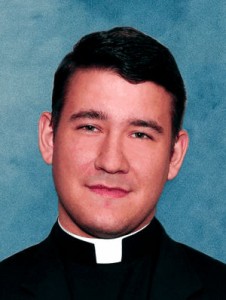 Ordination
June 1, 2013
Seminary
Ss. Cyril and Methodius
Assignment
St. Mary's Parish, Ware, MA
I was born in Kraków, Poland into a Catholic family and grew up in the faith. One month ago my mother passed away in Poland and honestly I can say that because of her my faith is strong. I do remember time when my mom used to take my twin brother and me to the church every Sunday and sometimes during the week for special devotion to the Our Lady of Czestochowa. I do remember saying to my mother that for me the church is not a building or a place but community group of the people that trust Jesus and his kingship over whole world.
My family is deeply religious. I thought about joining the seminary before First Communion. For a long time I thought about going to the convent of the Carmelite Fathers in Krakow. One day I asked a priest who was my religious education teacher one simple question: "What I must do it to be a priest?" I was not happy with his response about having good grades, going to the university etc. I always thought it was easier to join the seminary. From that time I was learning and studying more at school and after school at home. On my journey to the priesthood I finished my high school with culinary degree and degree in nutrition. When I finished my high school, I went to a seminary for the Archdiocese of Kraków. During that time I thought about going to a Church that needed help. I dedicate my life to Our Lady of Częstochowa to be an instrument in God`s hands. After studying at the seminary in Kraków, I was accepted as a seminarian at SS.Cyril & Methodius Seminary in Kraków in Orchard Lake, MI.
Again I do remember what my mom taught me when I was ten years old: "How important it is to be able to see God in others and help them." This is why I was thinking about being a priest. In August 2008 I flew to the USA to follow his call. That was a blessing for me when I was serving as a deacon in Saint Mary's Church in Cheshire, MA. Father David R. Raymond has been an inspiration to me. He was and still is the best example of the priest as a shepherd I have ever seen in my life.
I was ordained to the priesthood in June 1, 2014. My understanding of the priesthood is very simple. Priesthood is about Jesus Christ and His Church, not about us, not about our private will. The priests are called to follow the voice from God, to be strong in their faith and good models for others as the apostles of Jesus Christ. I do remember when Bishop Timothy A. McDonnell, Bishop of Springfield said that "our goal is to bring people to God and his teaching and His truly presence in his sacraments to the people" This is a greatest joy in priesthood to be an instrument in God's hands in different way by prayers, being with people, teaching, preaching but always by being a God's messenger who is bringing good news by saying to others, "Do not be afraid to follow me."