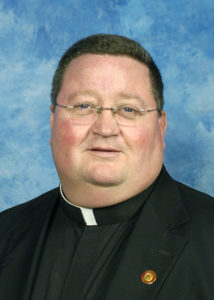 Seminary
St. John Seminary, Brighton
Ordination
May 11, 1985
I grew up in the small town of Adams, MA with mom and dad. I have a brother who is 17 years older than I am. My parents were faith-filled Catholics and active in the church and my grandparents from Poland were a huge influence in my life.
My faith was nurtured by the Felician Sisters who taught me in school and the priests in my parish. I became more spiritually mature in college, having a spiritual director to assist me in my journey.
I first remember raising my hand in the 4th grade when the priest came into the classroom asking who wanted to be priests and sisters. That thought never left me. It was only in college when I began to seriously think of priesthood and finally enter into seminary formation.
Nothing gives me greater joy in the Priesthood than to know that I snatched a soul from the devil and won it for Christ – all accomplished through celebrating the sacraments and being the instrument of grace.
My advice is to give yourself completely to Christ. Become his disciple. Be quiet and listen to God speaking. Allow the Holy Spirit to tug at your heart and then respond with a huge and generous "Yes." That "yes" will change your life as it did for our Blessed Mother. Just imagine being a priest of Jesus Christ and becoming his warrior to save souls.